"It's a breeding ground for bullying, harassment and discrimination," she said.
The Australian Cinematographers Society commissioned the research into "the development and diversity of the camera workforce", focusing on cinematographers and other members of their team, including camera operators, shooters tuners, clamshell loaders and personnel who use Steadicams, underwater cameras and drones.
Called A bigger goalthe report revealed that the film crews are predominantly male (80%), heterosexual (83%), Anglo-Celtic (63%) and aged over 35 (72%).
Male cinematographers shot 91% of all scripted feature films and TV series between 2011 and 2019. And while women shot more TV during this time (from 5% to 17%), they had fewer movies (from 11% to 9%).
The higher the budget, the less likely a woman is to be a cinematographer.
The report comes as the country's cinematographers excel internationally. At the Oscars this year, Wegner became the second woman to be nominated for Best Cinematography and Greig Fraser won for dune.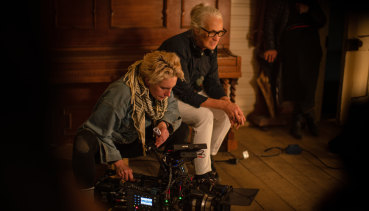 But the report suggests the industry reality is much more strained.
All cinematographers have experienced chronic unemployment and income insecurity, with women being paid less and having shorter careers than men.
Responses to the survey include that "awful working conditions and underpayment are the norm", "people in the cinema are so relentless…I've had several friends who committed suicide" and "this industry quickly abandons those who need help".
An overwhelming number of crew members who were female or from a minority group – Indigenous, LGBTIQ+, non-European, gender non-binary/trans, or disabled – feared that reporting bullying, harassment or discrimination does not negatively affect their careers.
Loading
Director of photography Bonnie Elliott (Stateless, The hunt, palm beach) said she was shocked by the report given that she sees the industry as less "blokey" than when she started as a clamshell loader more than 20 years ago.
Although she feels lucky not to have been sexually harassed or bullied, Elliott acknowledged that large international productions can be difficult places to work and that hierarchies on film sets can easily contribute to conflicts. abuse of power, "where people's behavior is not questioned or called out because they are above you".
Coles said the first steps to improving the industry for film crews would be Screen Australia, including cinematographers in its push for more gender equality and the federal government putting working conditions and safety in place. "at the center of the creative industries agenda".
safety rope: 131,114; National Sexual Assault, Family and Domestic Violence Hotline: 1800 RESPECT (1800 737 732)
Discover the next TV series, streaming and movies to add to your must-haves. Get The Watchlist delivered every Thursday.
Email the writer at gmaddox@smh.com.au and follow him on Twitter at @gmaddox.