Why is Japanese manufacturing so sought after? What are the qualities of Japanese monozukuri that allow him to succeed?
The equipment used in many industries such as the packaging industry is more or less the same no matter where you live in Japan. What is different though is the people who operate this equipment. They are the ones who adjust the equipment to be used to develop high quality products. The techniques used in the handling of the equipment, as well as the human knowledge and expertise accumulated by the engineers are essential for the Japanese. monozukuri.
During the Covid-19 pandemic, packaging companies have been hit hard. However, opportunities presented themselves during this period. While in-store sales and high street sales have rapidly declined, vending machine sales have increased and e-commerce transactions have increased tenfold in the United States. How has Covid-19 impacted your business and what long-term adjustments have you made to your product line as a result?
We have overseas facilities in the Asian region, but during the pandemic, it was difficult for Japanese staff to travel to some overseas destinations. This caused miscommunication. Although online zoom meetings can take place, many nuances and details could not be handled so well. It was a bad side of the pandemic.
When it comes to e-commerce, have you noticed any changes in your business with the shift from in-store sales to e-commerce based sales?
Yes, we have definitely seen more traction given to e-commerce. For example, an online retail store in Japan is called Rakuten. We are now launching our branded anti-static agent "CP Coat" on this platform, starting from July.
---
---
There are three major effects to consider when talking about the characteristics of our "CP Coat DEO" which was developed as a derivative of the original CP Coat. First, their reliable antistatic effect. Secondly is their long-lasting deodorant effect, and thirdly they have an anti-pollen function. All these three main features are integrated in our "CP Coat DEO".
Could you tell us more about how your company is adapting its business model to Japan's changing demographics? What opportunities and challenges does this present to you?
The garment industry is the core business of our company. We supply a lot of materials to companies in this industry. Currently, we are seeing a greater change in the location of production sites at this time, rather than a change in our operations due to the transition to an aging society. We see many companies that have located their production in China and South Korea, now moving to cheaper places, such as Bangladesh. Various garment manufacturers choose the cheapest labor in Bangladesh. So we follow this trend.
As far as Thailand is concerned, the fishing industry is one of the largest in the country. We manufacture the locally made cat food packaging in Thailand. Since most cat food is wet, it must contain some amount of water, so the packaging should be more airtight than dry dog ​​food. The packaging of cat food must prevent impurities from penetrating and must therefore be firm. We are currently introducing better packaging solutions for cat food.
What is the technology you use to provide this ideal packaging for cat food?
The advantage we bring is that at our production site, we are able to combine many different types of materials and different types of films for the packaging of this cat food. We use materials such as nylon, polypropylene, polyethylene and PET. We combine these materials to create better packaging. Our company is able to introduce many different types of materials, which are best suited for the packaging of each product, which enables us to offer many packaging solutions to our customers.
---

---
What are these alternative materials that you are looking to develop, especially as environmental concerns become more and more important? Carbon neutrality is a big goal of the Kishida government. How do you help businesses become carbon neutral?
Our paper hangers are ideal for lightweight garments that don't weigh too much, such as t-shirts and underwear. Biomass plastic is now very popular due to contamination of the earth and the fact that many types of plastic are not particularly environmentally friendly. We are introducing packaging that combines paper and film. Paper constitutes more than 50% of this packaging and it is possible to affix the mention "paper" as a recycling mark.
---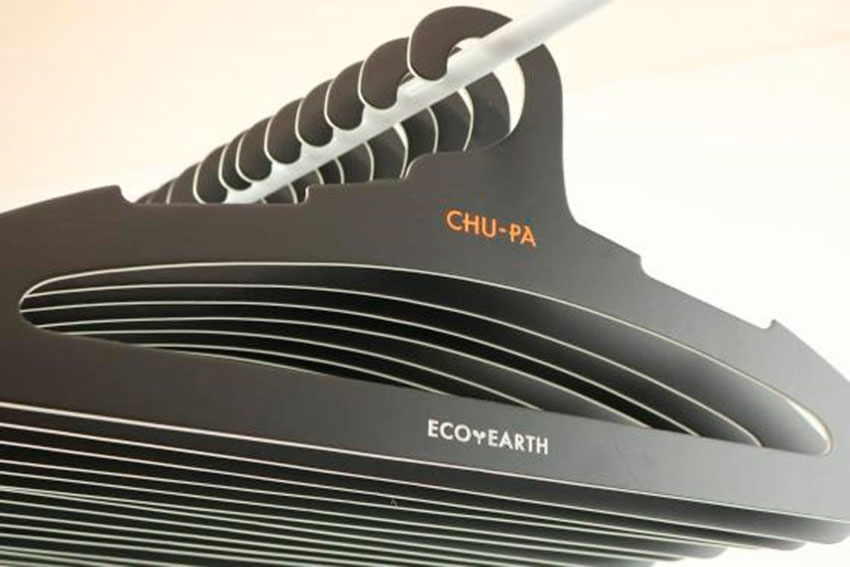 ---
Materials such as cellulose and nanofibers are being developed by many companies. Are you looking to go further with such alternative materials?
It is possible, but it will depend on the cost. We are open to different types of biomass, but this may be difficult to offer due to cost.
Fast fashion has become a huge trend valued at $91 billion. However, this leads to huge waste, as more than 10,000 items are landfilled every five minutes due to fast mode. How can it be more sustainable?
Legislation in Japan is getting tougher when it comes to industrial plastic waste. Since April 1st of this year, the law aims to promote the 3R+Renewable in the whole process of design, sale and waste disposal of plastic products, and to promote the transition to a circular economy. Our company is using this as a business opportunity and we are currently in talks with a national company that deals in clothing fashion. We recover plastic waste such as old film and bottle caps and recondition it to make products such as hangers, which can then be used to hang clothes in the garment industry.
When we talk to our end users, first of all, the number one point we discuss is the need to reduce environmental impact by eliminating plastic waste. Also in terms of cost, there is a slight increase when comparing conventional plastic hangers with paper hangers. However, we believe that prices will gradually stabilize as more customers use products made from environmentally friendly materials.
What is your medium-term strategy and what are you looking to accomplish?
The number one problem in Japan is the low birth rate and the aging population, as you mentioned earlier. Japanese society is changing. That said, there will always be a domestic market for our products. However, as part of our medium-term strategic plan, we are looking to overseas markets as the domestic market shrinks. Sales expectations in foreign markets are increasing. Many Japanese companies in the garment industry are also expanding overseas. This has been an important indicator for our business and we want to continue to expand overseas.
The contribution to the environment is also a major issue today, and the management and recycling of plastic waste is an important area for us. We seek to become even more environmentally friendly by taking care of recycling and offering more environmentally friendly solutions to our customers.
Are you looking for partners in your business abroad who will help you develop environmentally friendly technology and provide new services in new markets?
Yes, it's true. Inevitably, we will have to collaborate with local key players, because it is very difficult to start from scratch in foreign markets. Potential partners should be reliable and have a deep understanding of the market, which will enable us to increase our sales and introduce better sales channels in the future.
We see that in 2017 you established three overseas bases in Shanghai, Thailand and of course Bangladesh. What are the benefits of these locations for your business and what new markets have you been able to enter with these locations?
We certainly see a lot of synergy in our operations in these countries. Most of our apparel-related business partners have localized production in these areas, so having availability close to our packaging is very efficient. It also enables us to have a close relationship with customers, as we can produce and deliver products on time. Geographically, these are very good locations, as many of our business partners operate in these regions.
In the future, do you see business opportunities in Europe or North America? What services and products do you see yourself potentially offering to these customers?
We do not plan to expand into these areas, but as I mentioned earlier, we produce the packaging of cat food in Thailand, and the end producer of this cat food exports these products to the United States and in Europe. We look forward to further operations in Thailand, as Thailand catches a large amount of tuna.
Imagine coming back on the last day of your presidency and interviewing you again. What dreams and goals would you like to have achieved by then?
I want the next generation to be more flexible and better at communicating, to improve and build on what we've already built. Language has been a barrier for us, and I would like to remove that barrier. This would allow us to further broaden our vision for this business, targeting more overseas markets. I also hope that we can accelerate our proactive efforts towards the SDGs and become a company (helpful to the world) capable of proposing and delivering more environmentally friendly solutions.