COVID-19 presented major challenges for organizations: adapting workplaces, supporting remote workers, leave schemes and layoffs.
Society must work together to build sustainable working solutions for a future where some professions cease to exist and others will have to adapt in order to survive.
HR leaders are uniquely positioned to help guide this model – working with communities, schools and governments – to rebuild the economy.
Over the past nine months, I have been proud to see so many companies come together to help their employees and their communities. From rolling out new benefits and programs aimed at helping people weather the pandemic to making layoffs a last resort, businesses of all types have led with determination and empathy.
Now, with new vaccines offering hope for an end to the pandemic, business leaders have the opportunity to extend that sense of purpose by helping to find lasting solutions to the workforce problems of the world. company. This includes one of the biggest challenges our economy faces: how do we get the unemployed back to work?
Millions of people have lost their jobs during the pandemic, and many companies continue to consider and possibly proceed with layoffs. But getting back to work isn't just about finding another job. The pandemic has disrupted entire industries – including restaurants, travel and retail – and many of those jobs are unlikely to return. This means that many of these employees will need to upgrade their skills and take on new roles.
Meanwhile, as companies accelerate their automation plans and many jobs remain distant for the foreseeable future, employees in all industries are expected to learn new skills to think and work in different ways.
There are also other pressing workforce challenges: immigration, employee health and safety at work, racial and gender discrimination in employment, job security and more.
These are big problems to be solved. That is why businesses must play a leading role in working with communities, schools and policy makers at all levels to find sustainable solutions. No one has more experience – or more at stake – in the economic health of the country than its business leaders. With President Biden's administration expected to make labor issues like fair wages, minimum wages and unions a major part of its political agenda, this can now be a great opportunity for leaders. company to get more involved. It is also the right thing to do.
Within your organization, you probably already have someone who is ready to help your business take the lead on this initiative – your Director of Human Resources (HRD).
The first global pandemic in over 100 years, COVID-19 has spread around the world at an unprecedented rate. At the time of writing, 4.5 million cases have been confirmed and more than 300,000 people have died from the virus.
As countries seek to recover, some of the longer-term economic, trade, environmental, societal and technological challenges and opportunities are just starting to become visible.
To help all stakeholders – communities, governments, businesses and individuals to understand the emerging risks and follow-up effects generated by the impact of the coronavirus pandemic, the World Economic Forum, in collaboration with Marsh and McLennan and Zurich Insurance Group , launched its COVID -19 Risks Outlook: A Preliminary Mapping and its Implications – a companion for policymakers, building on the annual report of the Global Risks Forum.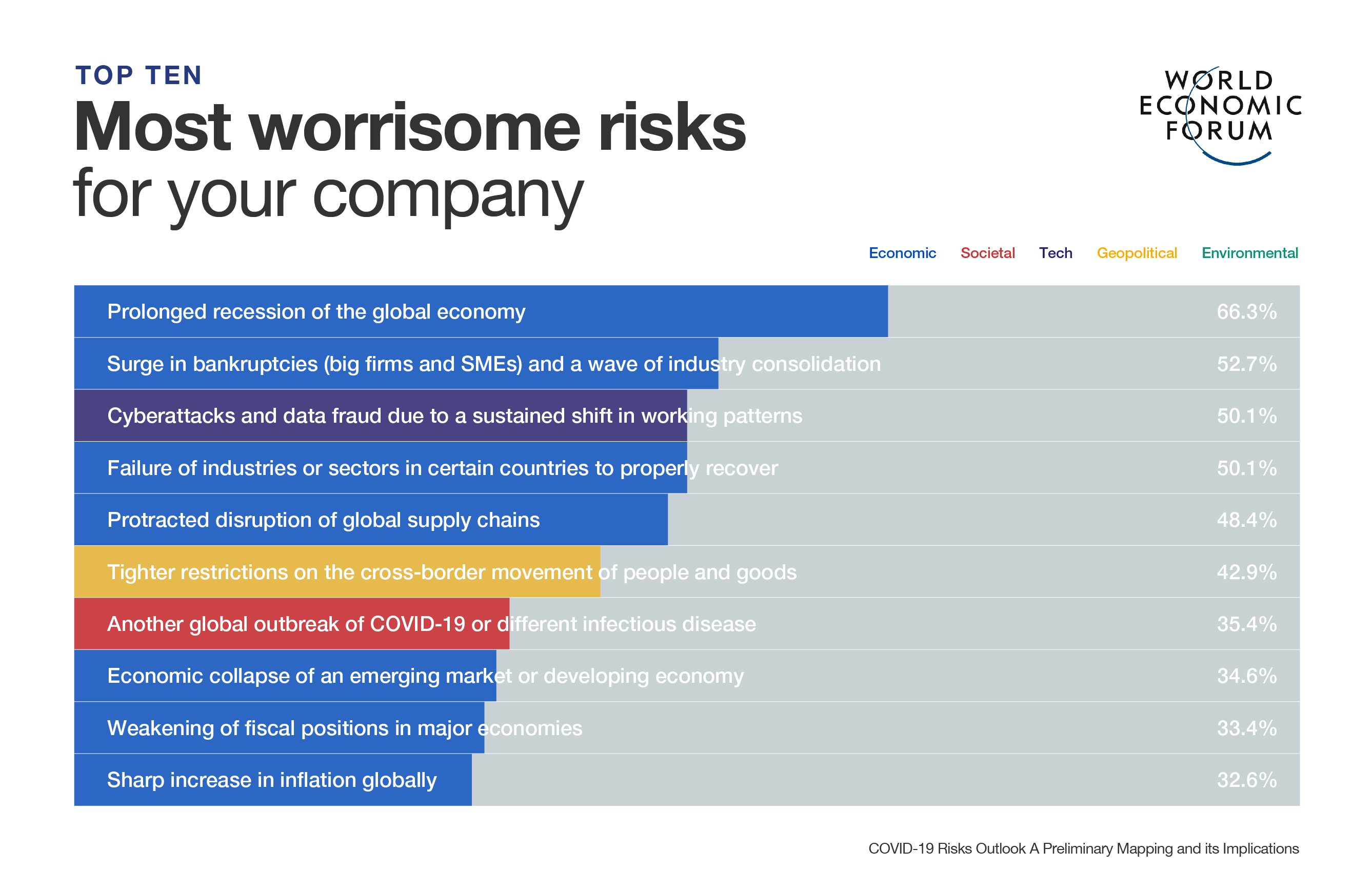 Businesses are invited to join the Forum's work to help manage identified emerging risks of COVID-19 across sectors to shape a better future. Read the full COVID-19 Risk Outlook: A Preliminary Mapping and Implications report here, as well as our impact story with further information.
HR managers are prepared and ready to help

Human resources (HR) managers have been at the epicenter of their companies' responses to the pandemic. In the hundreds of conversations with HRDs over the past nine months, I have been impressed by the depth and breadth of the new responsibilities they have taken on. They have led complex issues such as employee safety and mental health, productivity and morale. They have played a central role in the transition to remote working and have helped the leaders of their organizations face difficult choices about leave and severance pay.
The leadership of CHROs during the pandemic has also given many of them a new weight within their organizations – an influence they can use to encourage other business leaders to turn their attention outward.
Many HRDs are ready to take up the challenge. In the November PwC Pulse survey, an overwhelming number of HRDs – 89% – said they wanted to engage with elected officials to publicize President Biden's campaign tax proposals on their business operations. This is compared to 78% of respondents among all business leaders.
This is not about pushing for better trade policies or tax breaks. It's about finding solutions that are good for all stakeholders – your own business, as well as shareholders, employees, customers and communities. Some boards have already started to make it a priority; now there is an opportunity for other leaders within the organization to get involved as well. Working with schools, community organizations and governments can help you get started.
Schools: community colleges, universities and even some high schools are ideal for working with businesses. Companies can offer experience and support to provide training, matchmaking, and internships – not just for entry-level jobs, but perhaps for professional careers.
Community organizations: working with community organizations can help address issues that may be most pressing in your area, such as the need to retrain employees, help people develop their cyber or digital literacy, or others challenges. This could involve working with nonprofit organizations or chambers of commerce, many of which are developing new ideas for economic and workforce development, better access to education for minority groups and d 'other problems.
Governments: companies have the opportunity to help shape the future of work for the good of society and to help themselves in the process. Offer your experience and insight to political leaders who are thinking about policies to help create jobs and provide training to the unemployed.
The workforce challenges that society faces today can be daunting. Finding creative and sustainable solutions requires different ways of thinking and working together. Businesses – with HRDs at the center – should be part of this effort.